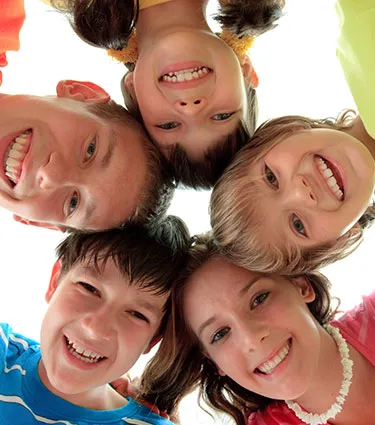 Dentistry for children
Our offer for children includes:
Teeth treatment with fluoride varnish - this technique consists in coating each and every tooth with a fluoride-rich varnish. A young tooth's enamel easily absorbs fluoride ions which in turn boost the tooth's resilience to decay. The treatment can be applied to both milk and permanent teeth, as and when required.
Fissure sealing - a treatment that allows the sealing of any fissures (natural or not) that are there on the surface of a tooth (milk teeth or permanent) with a fluoride-rich coating that protects the tooth mechanically as well as chemically. All teeth have fissures, and it is there that most of a meal's remains linger – even after careful brushing – allowing for bacteria to dissolve it into acids that attack a tooth's enamel. Sealing should be applied as soon as a tooth emerges (when it is caries nidus-free) and should then be checked every six moths to see if it should be reapplied, or if there is a need for an initial caries stadium treatment. If a child is diagnosed with tooth decay, it is extremely important to treat it as soon as possible, whether it's a milk tooth or a permanent tootht – and not just to prevent gingivitis, but also to stop the milk tooth from detaching too quickly from the child's gum, as this may lead to malocclusion if permanent teeth are allowed to grow unrestrained. All treatments at our clinic are conducted painlessly with the use of local anesthesia, so the child will not feel anything. We also offer coloured fillings and are prepared to reward the youngest for their bravery as soon as a therapy has been completed, which makes them more eager to come for future visits.
Apart from standard dental care for children (teeth treatment and extraction) we also provide orthodontic counselling.
Price list
Fissure sealing for permanent teeth
50 PLN
Fluoride treatment for all teeth
100 PLN
Milk teeth impregnation
50 PLN
Coloured tooth fillings
starts at 150 PLN
Endodontic treatment milk teeth
starts at 150 PLN
Milk tooth extraction per tooth
starts at 150 PLN
Scaling
od 250 zł
---